Iron Water Treatment Plant Chennai
Venus Createch Solutions is a leading water treatment company located in Chennai, TamilNadu. We are the largest manufacturer and supplier of iron water treatment plant Chennai.  We provide various types of water treatment systems. Our water treatment system will be convenient within a low-cost budget, easy installation, easy maintenance, and long term durability. The Iron water problem is a hassle for lots of human being's lifestyles when it's far present within the water in an excessive limit. This reasons n number of difficulties in terms of the usability of the water. The higher limits of iron in the water reasons turbidity, color changes, create a bad odor, change the shade to a reddish or rusty tone, and additionally add numerous suspended particles to the raw water. This iron needs to be eliminated from the water to make sure that water is clean, crystal clear, and usable. The great way to put off the iron and each hint of it from the water is through the Iron Removal Filteration. And we, at have brought the great iron elimination plants in India for you. As the maximum of the iron elimination plant life in India fails to carry out this challenge efficiently, we make sure that our filters can do away with iron from water without clogging the machine. We use processed catalyst elements and quartz particles for filtering the iron.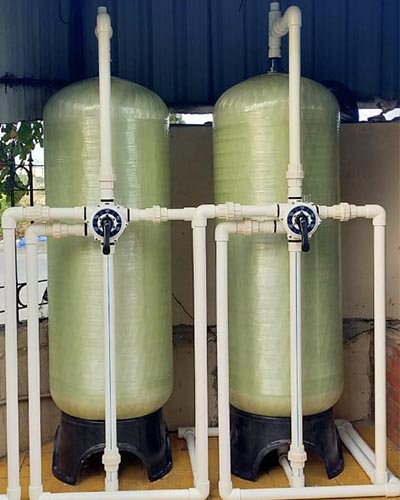 Iron Water in Chennai
Water naturally contains impurities. One of the major impurity is iron content, so these are neither suitable for drinking nor for bathing and other general purposes. Most of the Chennai people using iron water for bathing, washing, and general purposes as they are using bore well water system. Basically Bore well water contains more iron content. The reason is soil which has iron particles in it gets penetrated with water so the bore well water turns into iron water.
Iron particles in the bore well water which is more than 0.3ppm will change the color of the water. Majorly Iron water does not affect human health but it will cause unpleasant taste, bad odour, and yellow stain marks in your light color dresses, faucets, toilets and etc.
Our Iron Removal Plant System :
Our Iron Removal Plant system removes iron content such as Ferrous and Ferric. The Iron water treatment method includes Chlorination, retention, and Filtration. The most common problem with the iron water is the color or the reddish tint that it causes. This makes the clothes have yellow stains, causes many gastric disorders, and also makes the bathrooms and kitchen stained. When you use our iron removal filters, you will find that each one of our filters is extremely easy to use with very user-friendly operations. Our unique systems are carefully designed to make sure that there is no clogging in the pipes, thus preventing corrosion. We are the best and pioneers in manufacturing the iron removal plants so that our filters are very easy to maintain and the price of our iron removal filters is also quite affordable. In fact, we give utmost importance to our client's needs and requirements and design filters accordingly. In case there is any requirement for higher output, our filters can be upgraded easily. With our years of experience in manufacturing and supplying iron removal filter plants, we specialize in offering sophisticated plants at cost-effective prices. In our Iron removal filtration method water is treated carefully to make it clean and pure water for bathing and other general purposes. Also after treating the iron water we shall drink that water by passing it to the Domestic RO plants or Mini RO plants. Highly demanded in the industry, our plants are available in a range of specifications for our clients. Our reasonable price and customized plants of iron removal filters make us the one-stop-solution for people who wish to have a high-quality plant within their budget. This is the biggest benefit you can avail by using our filters.
Where to use the iron removing filter?
Although the most common use of these iron removing filters is in homes and apartments, they are also widely needed in the manufacturing plants where processed water is needed. In the case of boilers and coolers also, there is a need for clean and iron-free water. Various industries are always in need of clean water that is used in making the beverages, drinks, and also the food processing industries. We are the manufacturers of Iron Removal customized plants and filters for every kind of need.
Conclusion :
Venus Createch Solutions -Iron Removal Plant Manufacturers in Chennai, our prime concern is to deliver absolute customer satisfaction and make sure that our clients get an easy use of our filters to satiate their needs. Our clients are from various industries like hotels, restaurants, educational institutes, hospitals, laundries, and different industrial plants. We use very simple technology where the dissolved ferrous iron salts get converted into insoluble ferric salt with the help of processed catalyst and quartz. Hence, it gets precipitated and becomes quite easy to remove. Maintenance is very easy where you will only need to backwash the containers with clean water. Whatever your need may be, we can customize the machines accordingly at our workshop.
Quick Info:
You can get high-quality Iron water treatment plant Chennai at a reasonable price, call (+91 9884366644) our water treatment experts will answer all your questions regarding Iron Removal Plant and the benefits of iron removal.
See our products: